I first met Cuppy on channel 4 when she participated in the show Lagos to London and from then I have been obsessed with her, so you can all imagine how excited I was when she released her debut single green light to now in 2020, 4 years later shes realised her DEBUT ALBUM! As one of the original cupcakes, I could not be prouder!! She is Africa's first Apple Music Radio host, DJ, producer and philanthropist. She is a BOSS and a role model for so many of us young women out there!
Years in the making the 12-track release features an array of high profile collaborations including Wyclef Jean, Julian Marley, Rema, Darkoo, Stonebwoy, Ms Banks & so many more. Original copy brings together some of Africa's most star-studded artists for a celebration of the continent's ever-growing influence on the global music scene. This body of art sees cuppy tap into a sound she describes as "neo-Afrobeats", tackling themes ranging from independence to love lost and African pride!
"I am so proud that the album is now out. For me, it's not about numbers and statistics and charts, it's about the fact that I was able to focus and achieve my dream of having an album. I invite everyone to join me on this new journey and I hope they enjoy listening as much as I enjoyed making this album," shares Cuppy.
What's a typical day in the life of DJ Cuppy?
I mean it's this ahahah, always on the move! I jumped into my car to have a chat with you on my way to a couple of meetings, I have a studio session later on tonight and I have a lot of calls later on with my team in Lagos, so there are a lot of moving parts, then I have to have some lunch a probably catch up with my friends. In short, I'd say a typical day in the life of DJ cuppy is going in and out of my personal and work life because I am cuppy so I literally have to be there to make my work happen. It's just a very high level and high performance. Cuppy just doesn't stop.
Original copy – what's it about? What's the story behind the album?
Original copy is my debut album, my first ever album and I am just so proud of it, I mean it hasn't even been up to a week and I am still buszzing. I just feel like the album is laready exceeding my expectations, I always tell people, it's not about the staticstics or the numbers but about the feeling and the acomplishments. I know shes silent on the call but I jsut want to say shoutout to my amazing manager Liz! This is something that we have been wanting to do for a while and I just didn't have the guts to do it and i finally got to a place where I could tell the world that i could do what they told me not to, which is to be a female dj that also sings her rexords, that collaborates you know? That rperesnts a very specific genre.
The name orignoal copy actually cam from my fans. I call my fans cupcakes for obvious reasons and I just felt like most of my career I ahve been this contradiction, this whole cuppy thing shouldn't be working but it does. This is someone form a certain background that is working her ass off and is doing what has completly never been done before – she is a female DJ making and breaking the industry and just creating a new kind of lane for herself and shes got pink hair on top if it. For me this is very much a contradiction. When i was looking at the album i thought of names that contadicted themselves like bitter sweet and I guess orginal copy really stood out because there is no copy of yourself. You are youur original self and I really had to get comfprtable in my own skin to get this record ot and accept myself as i was. Another thing i sthat i was really inspired by pop art and andy warhall and his thing – in his era he was a contradiction of what was going on at the time. if you look at the art work, it is very pop art, theres a strip of cuppy that yo see an dyo're like is this cuppy? is this florebce? it's a play on bothe worlds and yo know original copy for me is literally the perfect name – there was this quote that we found taht said "you are born into this world orinial, do not die as a copy" . That is a strong representation of the legacy that I want to leave.
How did you come up with the name DJ Cuppy?
I mean my name florence is my god given name by my parnets, so cuppy – I loved cupcakes when I was growing up, that was like my thing – I loved to bake. I had like cute chubby cupcake cheeks and I was such an amazing apparently chatty and full of ebergy child, so yhh everyone used to call me cupcake anyway. So when it came to picking a DJ name I went with DJ Cupcake but I think that as I evolved I realised that this was something serious and as I got older, the cupcake kind of became cuppy. It's interestinhg because my favourite flavour of cupcake is red velvet which is why my company is called the red velvet group.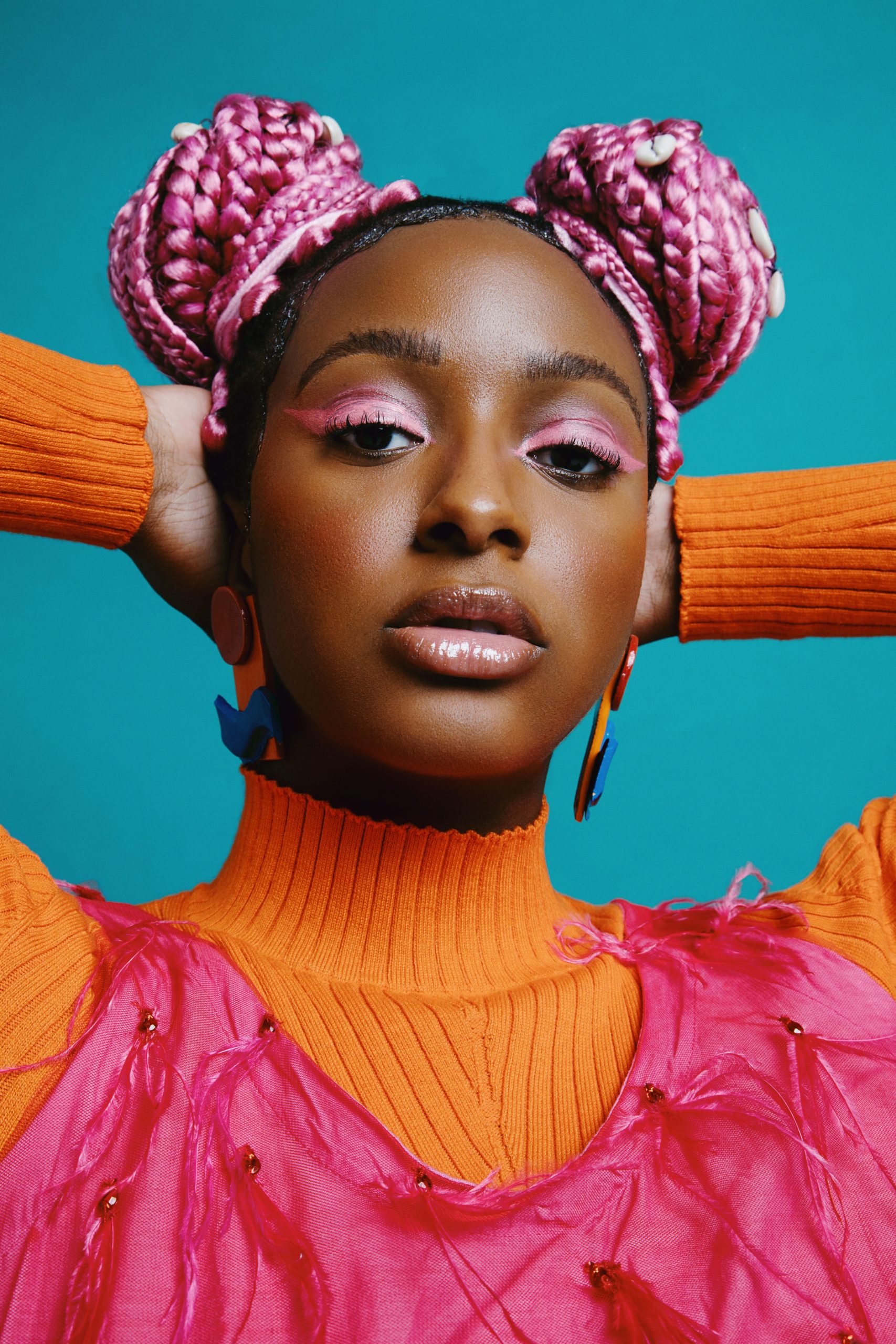 How would you say you have improved as an artist since the release of greenlight?
I mean when you look at greenlight it was my debut single and it has always been that comaprison because it has been my most successful commercial song to date and I am always comparing – if you compare cuppy in greenlight to vuppy now, I just wanted to tell people that with green light techno held mhy hand through the entire process. I mean who's lucky enough to have a debut single with techno, I mean he produced a beat , we cowrote the record rogether and came up with the structure together, that was in 2017 and now 3 years on, not only am I doing tracks myslef but I am literally doing an album, the growth and confidence is there and I think that on certain tracks of mhy album you really see me express myself and psuh myself vocally so you know, I think that i have grown a lot as an artist. Grenn light i think was a bit on the surface in terms of the meaning because I am actually thinking right now, what is greenlight actually about – probably kind of when you give someone the indication that it's pkay to go but to me it was the green light to my career, the greenlighht for me to actually start making music then original copy os now me cementing myslef in that position and saying cool, fine I've a;ready started this, this is who I am and I am not going anywhere
What challenges did you face when you first became a DJ? Making a name for yourself and what did your parents think?
I am lucky to have really supportive parents, they kind of said – whatever you do make sure you do it well. But yeahh i wont lie, I had challenges and I still have challenges. A lot of the things I have to do is constantly proving mhyself as a black woman and breaking barriers and I am used to people constantly telling me – "you can't do this , you can' do that" and I find myself just cinstantly trying to kick the door. Like i said beong a female, gender is a hug barrier but so is race. I wanna be a huge DJ, I am not looking at just one market or two markets but I want to be a global force and I had to get comfortable in my own skin as a black woman and accept that there would be prejudice or assumptions made about me but I am more than happy to work twoce as hard if i have to because I just feel like this is my calling.
When did you realise that you didn't just want to be a DJ but that you also wanted to make music?
You know, I've always felt like djying was creating music, I mean we're fusing records togther anyway and i have to say, shame on nigeria for not supporting or lifiting up djs as much as other countries. DJs are artists in their own right, they are people that have experssion, DJs are people that deserve respect and for me it was just really important for me to find my own place and make sure that I was expressing myself and for whatever reason it took me into singing. This was not planned and I don't think I have the best voice in the wolrd but at least my album, if someone else on jollof on the jet was singing jollof on the jet, I wouldn't feel like I expressed myself right cause jollof on the jet is something that came from my experience and I wanted to expecress myself and doing it through a third party would'nt have made sense to me.
Africa Now radio – how did the whole thing come about and what's your favourite thing about hosting? What does the show represent for you and African music as a whole?
Africa now is one of the most amazing things I've ever been able to work on. Aplle music have proudly prioritised the music and I just thing, there has never been a better time than now to be an African creative. I am so proud of whats going on. Africa now is literally me bringing the biggest and the best of our continent.
The idea behind it is to ensure that we are creating a space where not only people can discover but also learn and at the same time continue to love africa. I am nigerian and the best part of the show is the fact that it is Africa now radio, it is not nigeria now radio and so I am having to learn about 53 other countries and I am having to split that into 60 minutes, it's a challenge but I am really proud of myself. I've been in it for the last 3 months and it's just, for me a lot of people congratulated me for landing my dream job and I am proud of it but I also feel like it's kind of like about damn time. We cannot keep putting africa as a secondary continent or our music as a secondary genre. It's about time and I only hope that more people understand what we have to offer because this is not just about bringing africa to the world but also bringing the world to Africa. We have so much to give.
What is your favourite thing about growing up Nigerian and British?
I was born in lagos and I moved to the UK when I was about 13 so most of my childhood was in nigera and I think the best of both worlds is the fact that I kind of have this quintessential British I dare not say, smoothness, suave and humour. I love British whit – it's so dry and hostel but then I have that naija spirit – the hustle, the drive, aggression and extroverted personality so it really helps me navigate through this industry. And I think the best thing is just creating a fusion, I can be in any environment because of where i have been able to grow up and what i have been able to learn so you can put me in any european country or any african country and I'll always blend in.
You hold two other degrees so was there ever another career path for you?
If I am being honest with you, I always thought that msuci was a waste of my brain cells, I didn't understand how. uch of a structure it actually had, so i wangted to be a massive entrepreneur – come from a very business savy family amf I always thought that i would have made a million dollars by now. Let me tell you, I wouldn't be as happy, I'd probably be richer but not as happy. Music is so rewarding and the feelong it evokes is indesribable – just seeing people sing along, it's just really exciting an fun. I am just off baker street right now and I saw some girls who were songing one of my songs amd i was just thinking wow, that something that I literally sat down and came up with rabdonmly, it's so rewarding. But what i did learn, i was lucky enough to work at roc nation and that environamnt rwallh showed me how jay z took his love and his passion and really turned it into a career. i can be that successfl and also if i play my cards rght as a bsiness woman i think that I would have loved to have been entreprenrial bt my story is jst starting now! Find a job you and yo'll never work a day in yor life. I live by that!
What the best piece of advice you have received in your life?
It's not the best bt it's up there. I had a conversation with my dad this morning and i was telling him about how i was feeling about my album and how we're all just human bengs and how i expected everyone to be estaic for me and he sau]id to me "keep your friends close but your enemies closer" and it just reminded me that at the end of yhe day only you can be the biggest fan of you, if I'm sitting here doing this for people to validate me or to accept me it's not going to happen so that ghies down to my quote – find a job you love…. So if i am doing what i do for people to accept me and for me to feel fulfilled by outsiders i am always going to be on a crazy goose hunt and i think that was reallhy good advice from my dad and i am lucky enough to always have him as someone who lends a word. Again I don't have parents who are always like "omg cuppy you're amazing …" They're always pushing me to evolve and to do better and I love them for that!
Listen to her new album original copy here;